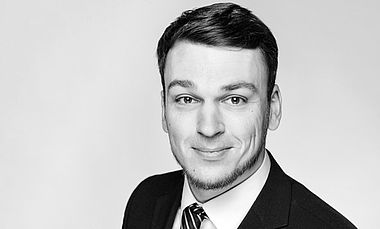 Jakob Schott earned his M. Sc. in microsystems technology at the University of Freiburg i. Br. in 2014 among the top 10% in his class. He wrote his master's thesis in the field of computer simulation and microfluidic medical technology at Hahn-Schickard-Society for Applied Research. After his studies, Mr. Schott worked for some time at a medical technology software company. Subsequently, Mr. Schott completed his three-year patent attorney training in a long-established law firm in Munich.

Mr. Schott joined WUESTHOFF & WUESTHOFF in 2019. His daily work focuses on drafting and prosecuting patent applications and representing clients in opposition proceedings. Further, he deals with patent infringements and prepares FTOs. Due to his interdisciplinary studies, he is competent in a wide range of technical fields. These include in particular medical technology, computer-implemented inventions (software), semiconductors, sensor technology, control- and electrical engineering and mechanics.


Our team
The profiles of our attorneys and experts shown here are designed to give you a first impression of their professional background and experience. We would be happy to provide more detailed information upon request.