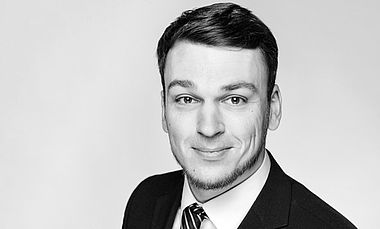 Jakob Schott studied microsystems technology at the University of Freiburg i. Br. and graduated as M. Sc. in 2014. He wrote his master's thesis in the field of microfluidic medical technology at the Hahn-Schickard-Society for Applied Research. Afterwards, Mr. Schott worked for some time at a medical technology software company in Munich.

From the end of 2015, Mr. Schott has undergone a three-year training for becoming a patent attorney. During this time, he worked in a medium-sized Munich law firm, at the same time undergoing distance learning courses in law and gaining insights behind the scenes of the German Patent and Trademark Office and the Federal Patent Court during a 9-months training period. Mr. Schott completed both the distance learning course and the patent attorney examination with above-average success.

Mr. Schott joined WUESTHOFF & WUESTHOFF at the beginning of 2019 after being admitted as a German patent attorney. He is mainly involved in drafting and prosecuting national and international patents as well as with opposition proceedings and FTOs. Due to his interdisciplinary studies, he is competent in dealing with a wide range of technical fields, in particular medical technology, electrical engineering, sensor technology, semiconductors, physics and software.
Our team
The profiles of our attorneys and experts shown here are designed to give you a first impression of their professional background and experience. We would be happy to provide more detailed information upon request.