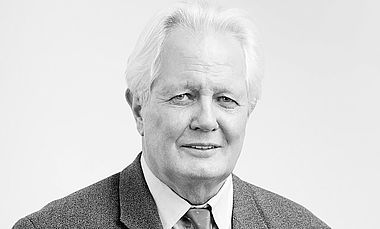 Axel von Hellfeld studied physics at the Universities of Göttingen, Hamburg and at Dartmouth College, U.S.A. He received his diploma in physics in 1973. In 1976, he was awarded a doctorate in Physics, with a thesis in Physical Chemistry. He was engaged for a duration of two years as research associate in the United States and has had numerous papers published on optics and laser applications.

In 1983 he was admitted as a German Patent Attorney and in 1984 he qualified as a European Patent Attorney. Axel von Hellfeld has extensive experience in representing clients before the German and European Patent Offices. He has also acted as leading counsel in a number of infringement suits before various German courts including the Federal Supreme Court. He has authored a number of articles on the protection of computer software - published in German, British, French, American and Japanese law journals - and presented papers on this subject at various conferences.

He also has considerable experience in the prosecution and litigation of patents in the fields of medical and optical devices. He lectured in Patent law at the University of Bielefeld and is responsible for FICPI's European training seminars on claim drafting.
Our team
The profiles of our attorneys and experts shown here are designed to give you a first impression of their professional background and experience. We would be happy to provide more detailed information upon request.