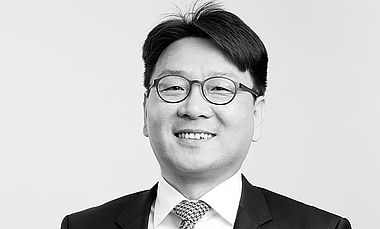 Mr. Junseo Hwang studied electrical / electronic engineering at the University of Ulsan and law at the Kyonggi University in Suwon, South Korea. 


Mr. Hwang worked at a noteworthy intellectual property law firm in Seoul for over twelve years as a patent engineer. His practice focused on Korean patent law, including the preparation and prosecution of Korean patent applications as well as preparing instructions regarding European, U.S., Canadian, Chinese, and Japanese patent applications. During his career in Korea, he has been working on standard essential patents for digital TV systems (MPEG-2, DVB-3DTV, DVB-T/C, DVB-IPTV, ATSC-PSIP, ATSC-NRT, ATSC 2.0, ATSC-3DTV, IPTV, HBBTV, CableTV) and commercially essential patents for digital TV, smart phones, wearable devices, IoT, drones, and user interface/user designs. He also was active as a consultant for creating essential patents on national businesses managed by the Korea Intellectual Property Strategy Institute. For one year, Mr. Hwang worked at a noteworthy intellectual property law firm in Cologne, where he was involved in standard essential patents for telecommunication systems and in mechanical cases regarding transportation technology. 


Mr. Hwang joined WUESTHOFF & WUESTHOFF in the year 2018. His current focus is on patent prosecution and litigation in the fields of electrical engineering, information and communication technology, and electronics.
Our team
The profiles of our attorneys and experts shown here are designed to give you a first impression of their professional background and experience. We would be happy to provide more detailed information upon request.