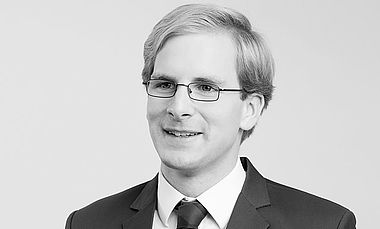 Johannes Stolberg-Stolberg studied physics at the Ludwig-Maximilians-University Munich focusing on medical physics, solid-state physics, and plasma physics. During his master thesis, he addressed the precise positioning of ion radiation for tumor irradiation by means of the ion acoustic effect. He received his master diploma in 2017.

Besides his studies, Mr. Stolberg-Stolberg gained experience during traineeships at the Leibniz Institute for Solid-state and Materials Research Dresden and at the Von Ardenne GmbH in the field of solid-state physics and semi-conductor physics.

Mr. Stolberg-Stolberg further founded a start-up enterprise besides his studies dealing with the technical implementation for the controlled use of mobile phones.

In 2017, Mr. Stolberg-Stolberg commenced his training as patent attorney with WUESTHOFF & WUESTHOFF. His core activities are particularly in the fields of medical engineering, physics, and communication technology.
Our team
The profiles of our attorneys and experts shown here are designed to give you a first impression of their professional background and experience. We would be happy to provide more detailed information upon request.